Description
Do more with dual monitors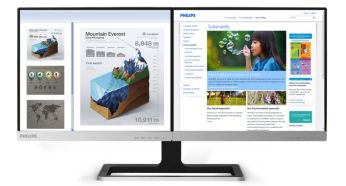 SmartConnect with DisplayPort, HDMI and VGA connections
With a plethora of connectivity, these Philips displays come equipped with multi connections like VGA,
Display Port, universal HDMI connector, enabling you to enjoy high-resolution uncompressed video and audio content.
USB connections ensure that you can have super speed data transfers while having global connectivity.
Regardless of what source you use, you can rest assured that this Philips display will ensure your investment is not made obsolete any time soon!
USB Hub with 4 ports for easy connections
A USB Hub allows you to conveniently connect and play multimedia devices such as USB memory devices, camera, portable HDD, web camera, PDA, printer and many other devices.
The conveniently located USB 2.0 Hub on the monitor allows USB 2.0 signals to pass thru to the computer for more ease-of-use.
Note that many devices like cameras and HDD may need to be powered independently, as they have higher power requirements than the monitor USB Hub can provide.
Research has found that multiple monitors significantly increases productivity and reduces errors.
Experience the advantage of dual monitors. multitask better, compare documents and information and do more in less time.
Award-winning Two-in-One design for increased productivity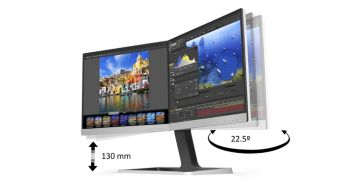 Increase your productivity and reclaim your workspace with the award-winning Philips Two-in-One, Dual Display.
The light, open footprint provides a clutter-free design that clears up space on your desktop to spread out versus a traditional two stand setup.
The ultra-thin border minimizes distractions, with a narrow 7 mm combined border, the two displays can be combined almost seamlessly to give the feeling of having one large display.
The sleek and sturdy stand also offers full 130 mm height and swivel adjustments to get comfortable with ultimate productivity.
Edge-to-edge glass and narrow border for seamless appearance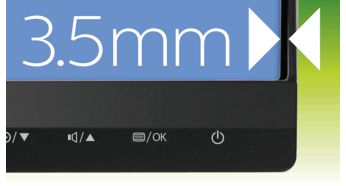 Utilizing latest technology panels, the new Philips displays are designed with the minimalistic approach by limiting the outer bezel thickness to about 2.5 mm. Combined with in-panel black matrix strip of only 3.5 mm,
The overall border dimensions are reduced significantly allowing for minimal distractions and maximum viewing size.
Especially suited for multi-display or tiling setup like gaming, graphic design, and professional applications, the ultra-narrow bezel display gives you the feeling of using one large display.
AH-IPS display gives awesome images with wide viewing angles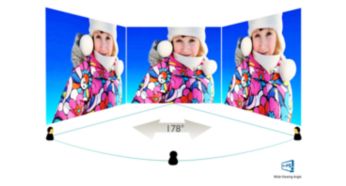 AH-IPS displays use an advanced technology which gives you extra wide viewing angles of 178/178 degree, making it possible to view the display from almost any angle.
Unlike standard TN panels, AH-IPS displays give you remarkably crisp images with vivid colors, making it ideal not only for photos, movies, and web browsing but also for professional applications which demand color accuracy and consistent brightness at all times.
Less eye fatigue with Flicker-free technology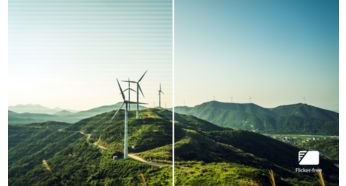 Due to the way brightness is controlled on LED-backlit screens, some users experience flicker on their screen which causes eye fatigue.
Philips Flicker-free Technology applies a new solution to regulate brightness and reduce flicker for more comfortable viewing.
SmartImage presets for easy optimized image settings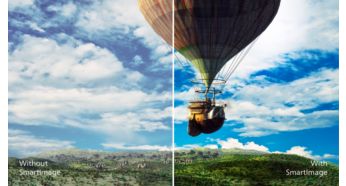 SmartImage is an exclusive leading edge Philips technology that analyzes the content displayed on your screen and gives you optimized display performance.
This user-friendly interface allows you to select various modes of Office, Photo, Movie, Game, Economy etc., to fit the application in use.
Based on the selection, SmartImage dynamically optimizes the contrast, color saturation and sharpness of images and videos for ultimate display performance.
The Economy mode option offers you major power savings. All in real time with the press of a single button!
SmartTxt for an optimized reading experience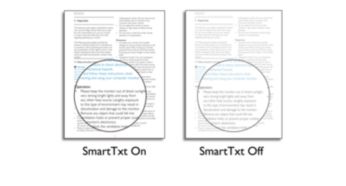 SmartTxt is a sophisticated algorithm that enhances the reading of text-based application such as PDF documents or ebooks which usually requires more focus and concentration.
SmartTxt feature increases the contrast and boundary sharpness of text content for better readability.
Optimization for reading is done by adjusting the display's gray level scale along with white balance, brightness, and contrast.
SmartKolor for rich vibrant images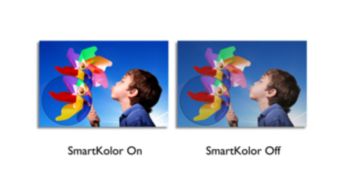 SmartKolor is a sophisticated color extension technology that is able to enhance the visual color range of the display.
By boosting the RGB gain level of the display, this feature enables you to have rich, vibrant images for experiencing outstanding photos and videos.
MHL technology for enjoying mobile content on big screen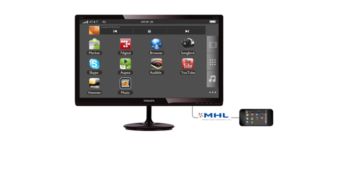 Mobile High Definition Link (MHL) is a mobile audio/video interface for directly connecting mobile phones and other portable devices to high-definition displays.
An optional MHL cable allows you to simply connect your MHL capable mobile device to this large Philips MHL display, and watch your HD videos come to life with full digital sound.
Now not only you can enjoy your mobile games, photos, movies, or other apps on its big screen, you can simultaneously charge your mobile device so you never run out of power halfway.

Are you a Graphic Designer, Coder, or Artist?
The advantages of using dual monitors
Unleash your creativity!